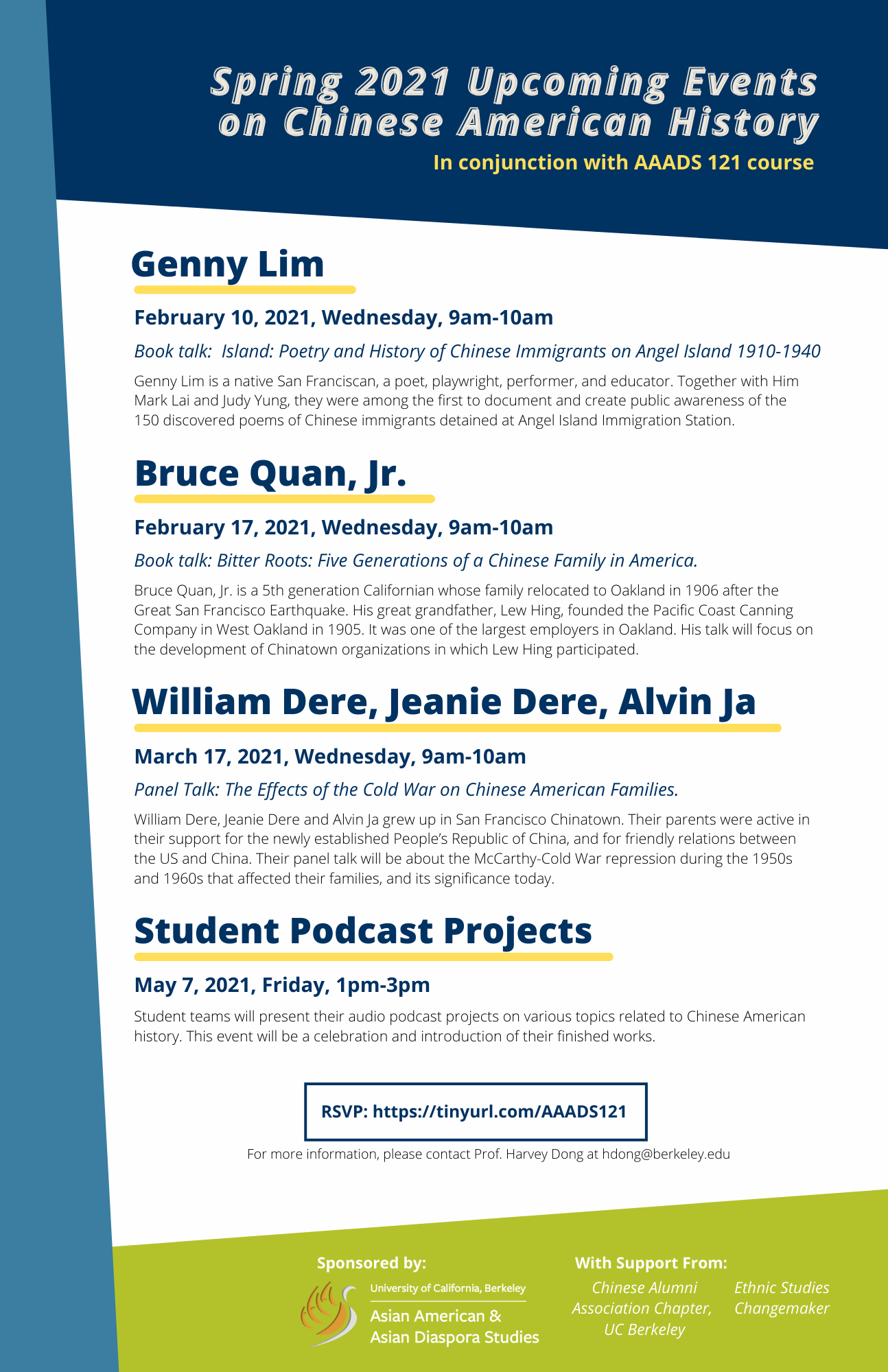 Spring 2021 Speakers Series Talks and Presentations on Chinese American History
Spring 2021 Speakers Series Talks and Presentations on Chinese American History
Hosted in conjunction with AAADS 121 course
For our class, we will have three speaker events that cover different aspects of Chinese American history. Angel Island Immigration Station and its Legacy. The rebuilding of San Francisco Chinatown and rise of Oakland Chinatown after the 1906 Earthquake. The Cold War repression on progressives in the San Francisco Chinese American community.  Our guest speakers have familiarity in their topics due to research and stories hand-down. This historical information is invaluable to our understanding of not only Chinese American but American history. Also, there will be a semester-end celebration of student podcast projects based upon research and interviews.
RSVP at tinyurl.com/AAADS121
February 10, 2021, Wednesday, 9am-10am
Speaker: Genny Lim
Book talk: Island: Poetry and History of Chinese Immigrants on Angel Island 1910-1940
Genny Lim is a native San Franciscan, a poet, playwright, performer, and educator. Together with Him Mark Lai and Judy Yung, they were among the first to document and create public awareness of the 150 discovered poems of Chinese immigrants detained at Angel Island Immigration Station.
February 17, 2021, Wednesday, 9am-10am
Speaker: Bruce Quan, Jr.
Book talk: Bitter Roots: Five Generations of a Chinese Family in America
Bruce Quan, Jr. is a 5th generation Californian whose family relocated to Oakland in 1906 after the Great San Francisco Earthquake. His great grandfather, Lew Hing, founded the Pacific Coast Canning Company in West Oakland in 1905. It was one of the largest employers in Oakland. His talk will focus on the development of Chinatown organizations in which Lew Hing participated.
March 17, 2021, Wednesday, 9am-10am
Speakers: William Dere, Jeanie Dere, Alvin Ja
Panel Talk: The Effects of the Cold War on Chinese American Families
William Dere, Jeanie Dere and Alvin Ja grew up in San Francisco Chinatown. Their parents were active in their support for the newly established People's Republic of China, and for friendly relations between the US and China. Their panel talk will be about the McCarthy-Cold War repression during the 1950s and 1960s that affected their families, and its significance today.
May 7, 2021. Friday. 1-3pm.
Student Podcast Projects
Student teams will be presenting their audio podcast projects on various topics related to Chinese American history. This event will be a celebration and introduction of their finished works.
These events are sponsored by Asian American & Asian Diaspora Studies and with support from the Chinese Alumni Association Chapter, and UC Berkeley and Ethnic Studies Changemaker.
For more information, please contact Prof. Harvey Dong if you have questions at hdong@berkeley.edu