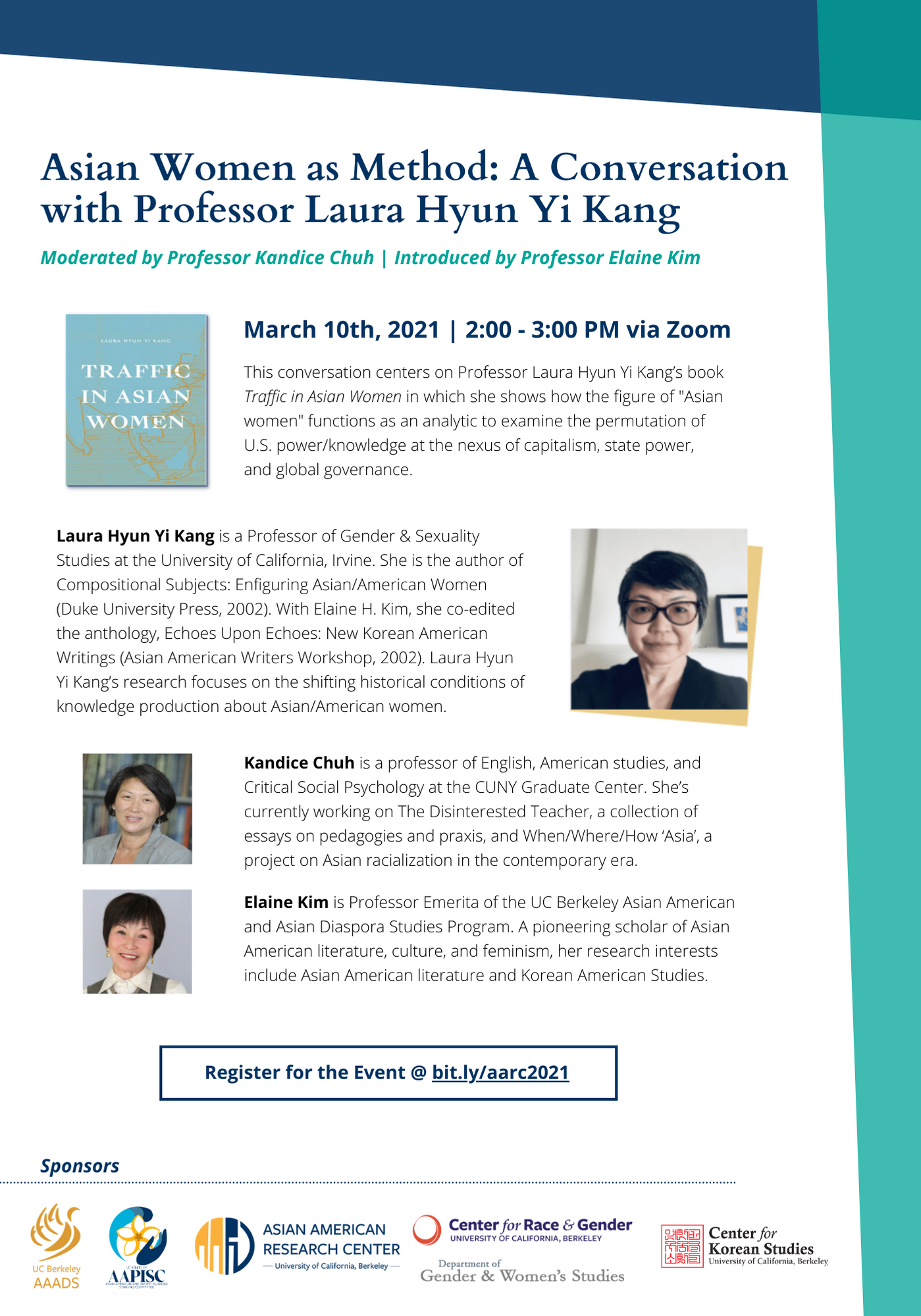 Asian Women as Method: A Conversation with Professor Laura Hyun Yi Kang
March 10th, 2021 | 2 – 3:00PM | Zoom
This conversation centers on Professor Laura Hyun Yi Kang's book Traffic in Asian Women in which she shows how the figure of "Asian women" functions as an analytic to examine the permutation of U.S. power/knowledge at the nexus of capitalism, state power, and global governance.
Register for the Event @ bit.ly/aarc2021
Laura Hyun Yi Kang is a Professor of Gender & Sexuality Studies at the University of California, Irvine. She is the author of Compositional Subjects: Enfiguring Asian/American Women (Duke University Press, 2002). With Elaine H. Kim, she co-edited the anthology, Echoes Upon Echoes: New Korean American Writings (Asian American Writers Workshop, 2002). Laura Hyun Yi Kang's research focuses on the shifting historical conditions of knowledge production about Asian/American women.
Kandice Chuh is a professor of English, American studies, and Critical Social Psychology at the CUNY Graduate Center. She's currently working on The Disinterested Teacher, a collection of essays on pedagogies and praxis, and When/Where/How 'Asia', a project on Asian racialization in the contemporary era.
Elaine Kim is Professor Emerita of the UC Berkeley Asian American and Asian Diaspora Studies Program. A pioneering scholar of Asian American literature, culture, and feminism, her research interests include Asian American literature and Korean American Studies.