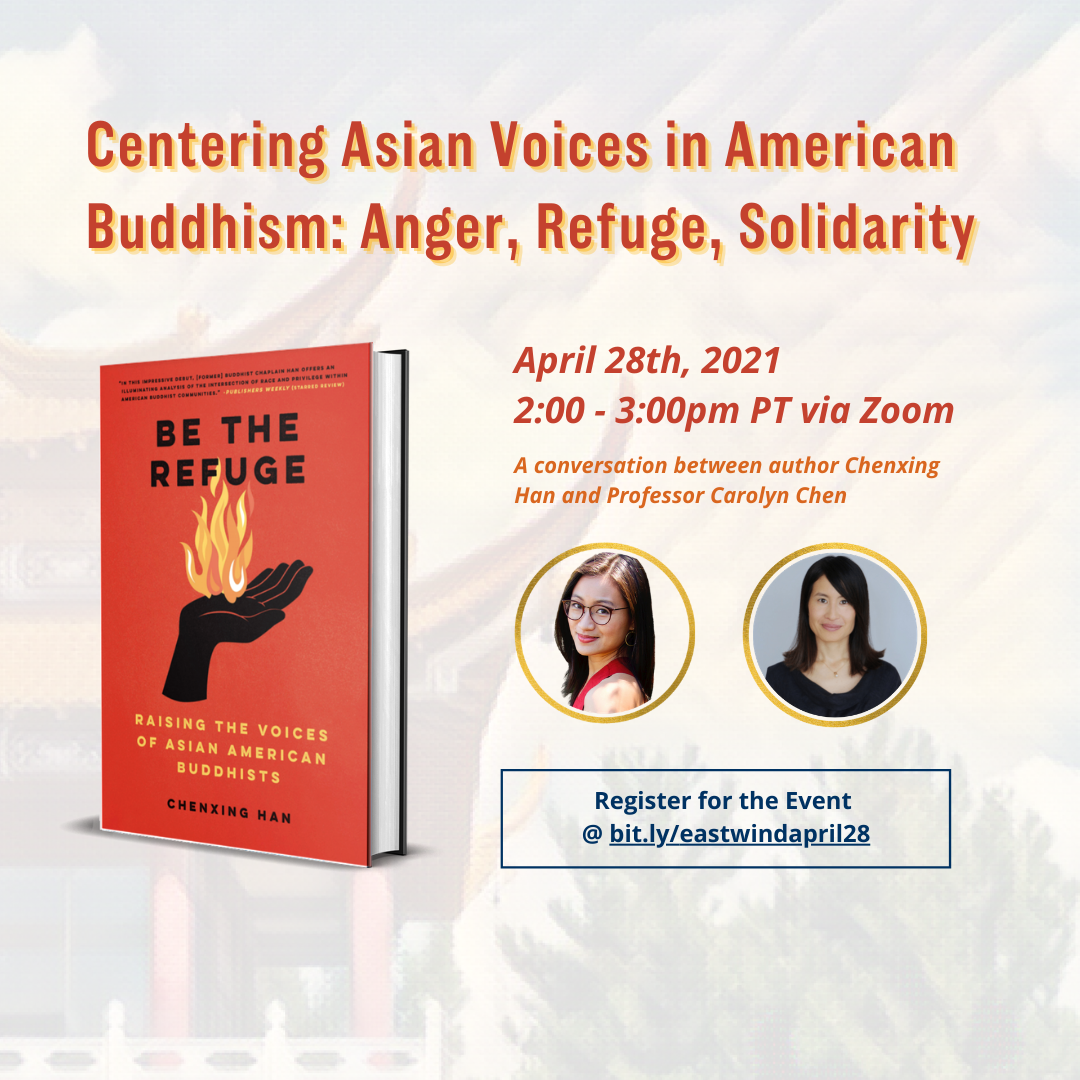 Centering Asian Voices in American Buddhism: Anger, Refuge, Solidarity
Please join us for a conversation between author Chenxing Han and Professor Carolyn Chen on Be the Refuge: Raising the Voices of Asian American Buddhism. 
Be the Refuge is the first book to center the experiences of Asian American Buddhists as a pan-ethnic, pan-sectarian group. It is a celebration of underrepresented voices—and a challenge to bifurcating models of American Buddhism. Drawn from in-depth interviews with 89 young adult Asian American Buddhists, Be the Refuge counters the erasure of this complex and diverse group by resisting essentialized tropes (Oriental monk, superstitious immigrant, banana Buddhist) and highlighting the stories of multigenerational, second-generation, convert, and socially engaged Asian American Buddhists. Weaving together interviewee perspectives with scholarship and spiritual inquiry, this book reenvisions Buddhist Asian America as a community of trailblazers, bridge-builders, integrators, and refuge-makers. 
Chenxing Han is a Bay Area–based writer whose publications have appeared in Buddhadharma, Journal of Global Buddhism, Lion's Roar, Pacific World, Tricycle, and elsewhere. She holds a BA from Stanford University and an MA in Buddhist studies from the Graduate Theological Union. After studying chaplaincy at the Institute of Buddhist Studies in Berkeley, California she worked in spiritual care at a nearby community hospital in Oakland. Her first book, Be the Refuge: Raising the Voices of Asian American Buddhists, was published by North Atlantic Books in January 2021. www.chenxinghan.com
Carolyn Chen is Associate Professor of Ethnic Studies at UC Berkeley. She is author of Getting Saved in America: Taiwanese Immigration and Religious Experience (Princeton 2008), co-editor of Sustaining Faith Traditions: Race, Ethnicity, and Religion among the Latino and Asian American Second Generation (NYU 2012), and a forthcoming book on Asian spiritual practices in Silicon Valley tech companies. 
Co-sponsors:
Berkeley Center for the Study of Religion
Center for Buddhist Studies