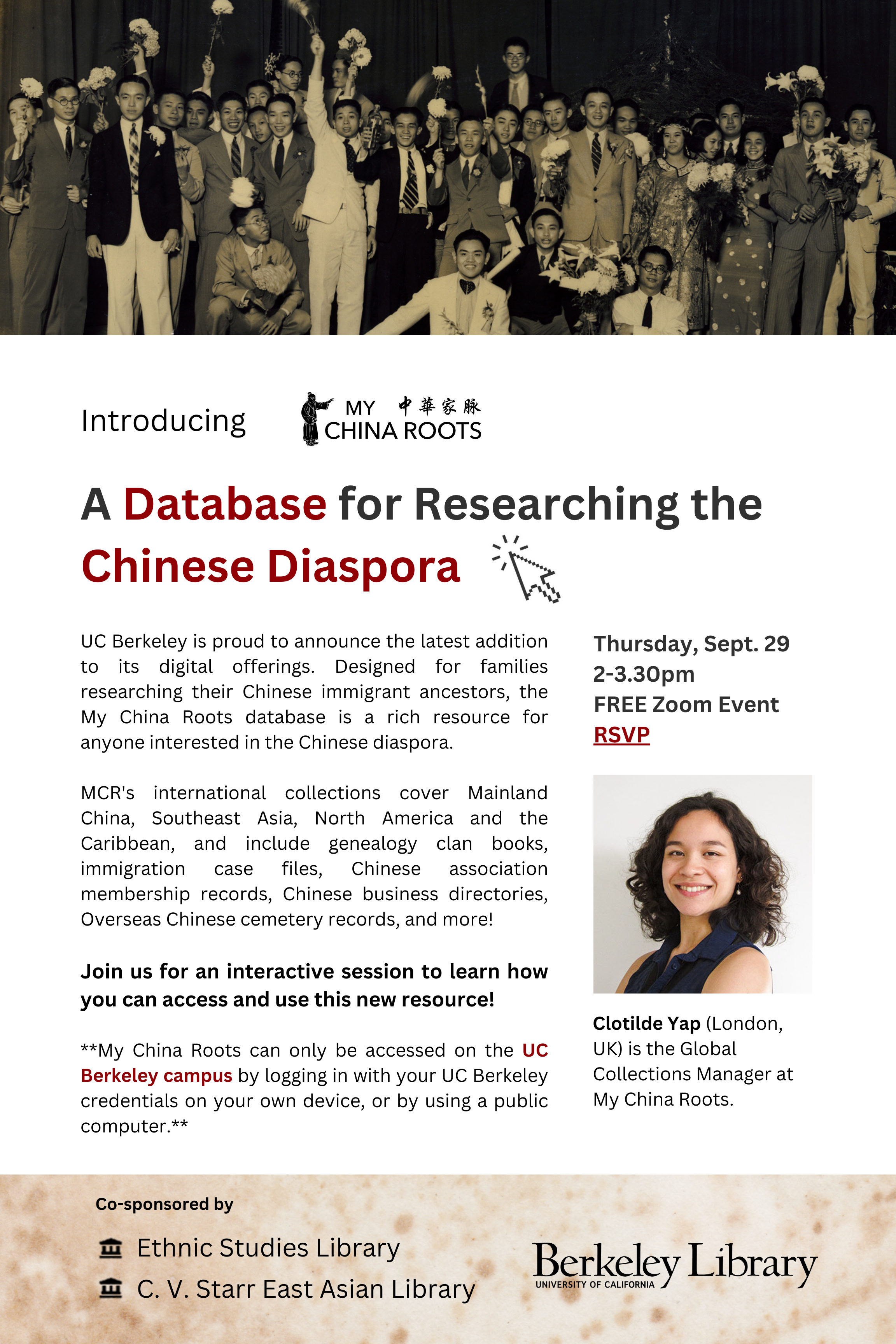 Introducing My China Roots: A Database for Researching the Global Chinese Diaspora
Introducing My China Roots: 
A Database for Researching the Global Chinese Diaspora
Thursday September 29, 2022 
2pm-3:30pm on Zoom
Register at
tinyurl.com/UCBMCR
Join us for an interactive introduction to
My China Roots
, a new library resource available to the UC
Berkeley community. Come learn about how you can access and use this new resource from Clotilde Yap, Global Collections Manager at My China Roots.
Designed for families researching their Chinese immigrant ancestors, the My China Roots database is a rich resource for anyone researching the Chinese diaspora. Its international collections cover Mainland China, Southeast Asia, North America and the Caribbean, and include genealogy clan books, immigration case file indexes, Chinese association membership records, Chinese business directories, Overseas Chinese cemetery records, and more!
For students, faculty and members of the public interested in:
Asian American Studies

Ethnic Studies

Diaspora Studies

Chinese American history

Chinese immigration history

Culture and history of the global Chinese diaspora

Chinese kinship studies

Ancient China

Family history research

Cultural heritage preservation
**My China Roots can be accessed on the UC Berkeley campus by logging in with your UC Berkeley credentials on your own device (use eduroam for best results) or by using a public computer. For UC Berkeley users, off-campus access is available through the VPN only.**
In partnership with the UC Berkeley Libraries, Ethnic Studies Library, and C.V. Starr East Asian Library.