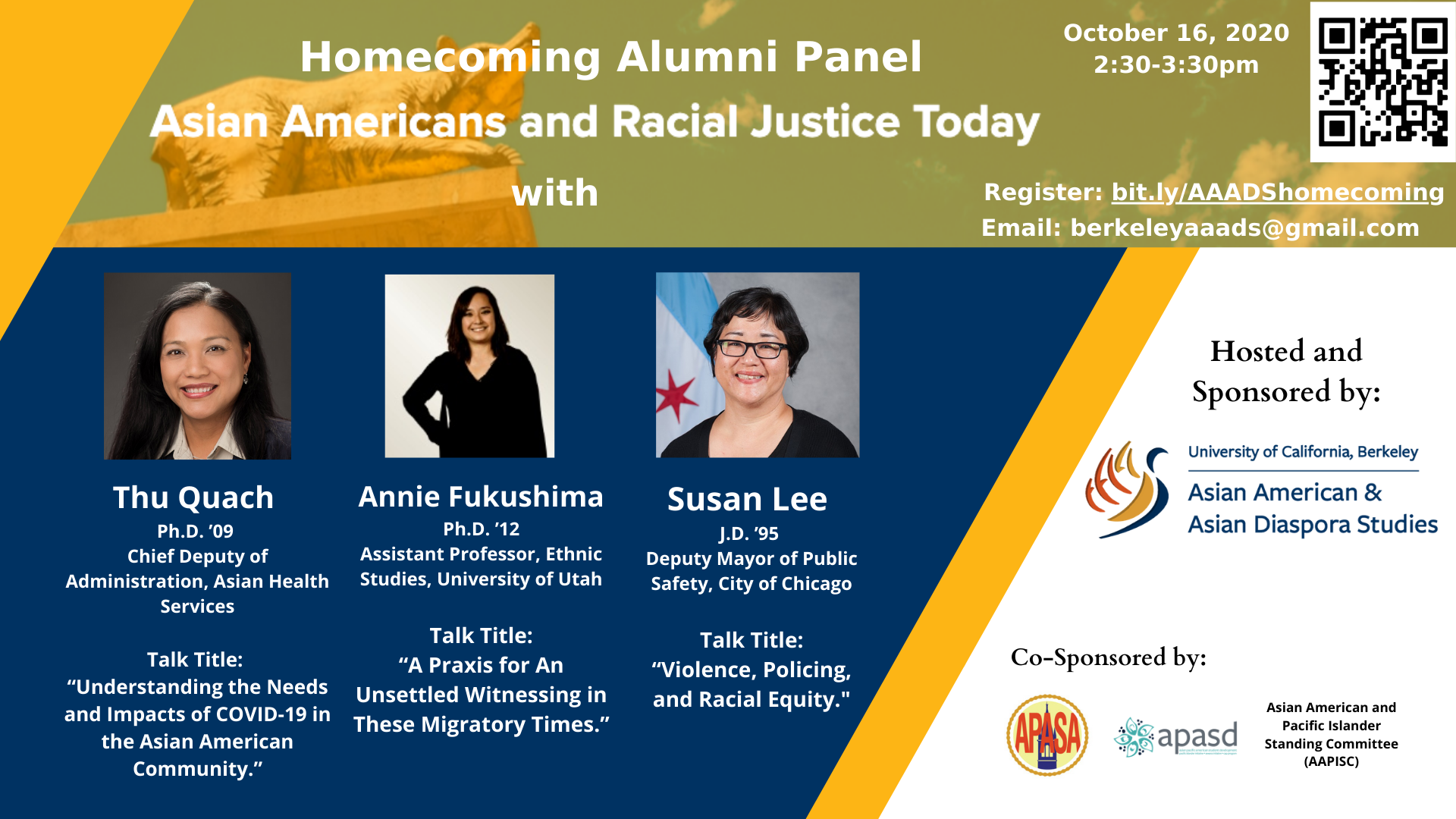 [PANEL] AAADS Homecoming 2020
 Join alumni, faculty, students, staff, and friends of Asian American
and Asian Diaspora Studies for a special event
during 

Homecoming

 Weekend at UC Berkeley.
Virtual Panel Discussion
Asian Americans and Racial Justice Today 
Friday, October 16, 2020
2:30-3:30pm
Panelists
Thu Quach, Ph.D. '09 – Chief Deputy of Administration, Asian Health Services
"Understanding the Needs and Impacts of COVID-19 in the Asian American Community"
Dr. Quach currently serves as the Chief Deputy of Administration at Asian Health Services, a federally qualified health center in Oakland serving 50,000 patients in English and 14 Asian languages. She has been working in public health and health care for over two decades. Her research, service, and advocacy work have been grounded in her own lived experience as a refugee from Vietnam, and the struggles her family faced in the health care system. As an epidemiologist, Dr. Quach is leading the organization in addressing racial disparities in COVID-19, including starting up a culturally and linguistically competent community testing site and contact tracing targeting AAPIs.
Annie Fukushima, Ph.D. '12 – Assistant Professor, Ethnic Studies, University of Utah
"A Praxis for An Unsettled Witnessing in These Migratory Times"
Dr. Annie Isabel Fukushima is an Assistant Professor in Ethnic Studies at the University of Utah. She is the author of the award-winning book, Migrant Crossings: Witnessing Human Trafficking in the US (Stanford University Press) which received the American Sociological Associations Section on Asia and Asian America book award on Asian America. And Fukushima is the Project lead and Co-Principal Investigator for "Visualizing Gender-Based Violence", a research project of the University of Utah's Gender-Based Violence Consortium.
Susan Lee, J.D. '95 – Deputy Mayor of Public Safety, City of Chicago
"Violence, Policing, and Racial Equity"
Susan Lee serves as the Deputy Mayor of Public Safety for the City of Chicago.  In her role, she oversees police, fire, emergency management, police accountability and citywide violence reduction strategy.  Before her role under Mayor Lightfoot, Susan worked as a social justice advocate in multiple cities working on issues of immigrant rights, racial equity, community safety, violence reduction and police reform. Susan is the co-author of the 2007 "A Call to Action", a blueprint for violence reduction for Los Angeles, that was embraced by the City and implemented over the last 13 years leading to significant reductions in violence and improved police-community relations.
This event is presented in conjunction with Reunion and Parents Weekend at 

Homecoming

, and is offered free of charge to friends of AAADS.

Please register here to reserve your spot.