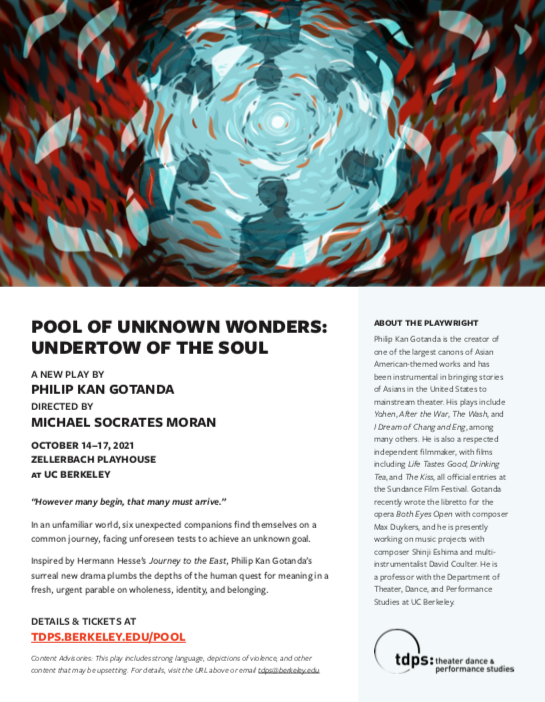 Pool of Unknown Wonders: Undertow of the Soul
Pool of Unknown Wonders: Undertow of the Soul
By Philip Kan Gotanda
Directed by Michael Socrates Moran
Presented by the Department of Theater, Dance, and Performance Studies
Zellerbach Playhouse at UC Berkeley
October 14–17, 2021
"However many begin, that many must arrive." 
In an unfamiliar world, six unexpected companions find themselves on a common journey, facing unforeseen tests to achieve an unknown goal.
Inspired by Hermann Hesse's Journey to the East, Philip Kan Gotanda's surreal new drama plumbs the depths of the human quest for meaning in a fresh, urgent parable on wholeness, identity, and belonging.
About the Playwright: Philip Kan Gotanda is the creator of one of the largest canons of Asian American-themed works and has been instrumental in bringing stories of Asians in the United States to mainstream theater. His plays include Yohen, After the War, The Wash, and I Dream of Chang and Eng, among many others. He is also a respected independent filmmaker, with films including Life Tastes Good, Drinking Tea, and The Kiss, all official entries at the Sundance Film Festival. Gotanda recently wrote the libretto for the opera Both Eyes Open with composer Max Duykers, and he is presently working on music projects with composer Shinji Eshima and multi-instrumentalist David Coulter. He is a professor with the Department of Theater, Dance, and Performance Studies at the University of California, Berkeley.