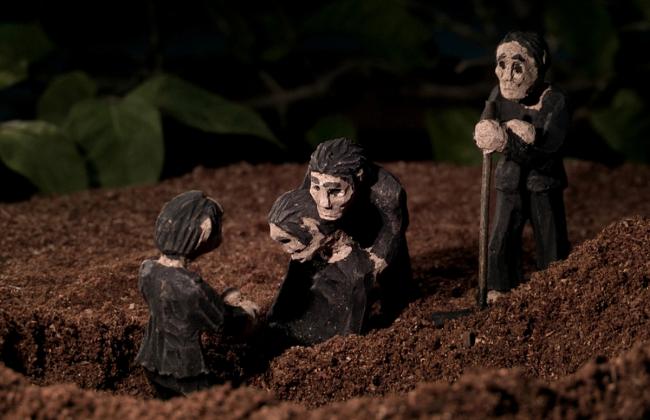 Rithy Panh at BAMPFA
This fall, BAMPFA is honored to have Rithy Panh present two of his recent films in person. A survivor of
the Khmer Rouge's genocidal regime, Panh has devoted his career to telling the stories of the
perpetrators and some two million victims who died in extermination prisons and labor camps in
Cambodia between 1975 and 1979. Along with more than two dozen films, Panh's project has included
the creation of the Bophana Audiovisual Resource Center, which serves as an archive, training, and
production center to preserve Cambodian cultural heritage and to encourage the next generations of
storytellers. Working in both fiction and documentary, Panh uses innovative approaches to address the
legacy of trauma in the nation of his birth. In his recent film Irradiated, he expands his field of vision, reflecting on the murderous man-made cataclysms of the twentieth century.
Writing about Irradiated for IndieWire, David Ehrlich noted that "Panh has long pursued new ways of
seeing modern history's most resonant nightmares; he's always been desperate to reconcile the
unimaginable with its absent sense of reality, and weaponize past trauma into a deterrent against the
devastation to come." At the end of an article written at the time of Irradiated's premiere in Berlin, Panh
reconsidered Theodore Adorno's assertion that "to write poetry after Auschwitz is barbaric," asking "Is
poetry impossible after Auschwitz? I plead for more poetry, more creativity, more freedom."
The Missing Picture
Saturday, September 24 at 7:00 PM
Rithy Panh and Khatharya Um in Conversation
A daunting task that continues to confront media makers is how to represent the unrepresentable—
calamities and atrocities of unimaginable magnitude. The challenge is even greater when the media maker himself is a survivor. Such is the case for veteran filmmaker Panh, who has committed his life to probing and exposing the Cambodian genocide and its aftermath. Having toiled in labor camps as a boy and watched his entire family die, he prepares to grapple with this childhood. Using clay figures, archival
footage, and live action, Panh materializes the missing pictures for us, his companion witnesses. Stunningly vivid and achingly intimate.
More Information Here
Irradiated
Sunday, September 25 at 5:30 PM
Rithy Panh and Boreth Ly in Conversation
Winner of the 2020 Berlinale Documentary Award, Panh's Irradiated continues his exploration of the
inhumanity of war and ideologically motivated genocide beyond the borders of his native Cambodia.
Drawing on the archives of twentieth-century atrocities, Panh literally expands the frame of his project
using a cinemascope aspect ratio to present images in triplicate, reframing and juxtaposing images to
analyze the accumulated horrors. Accompanied by an off-screen dialogue that evokes Alain Renais's
Hiroshima mon amour and the on-screen gestures of a butoh dancer, Irradiated requires viewers to bear witness as a bulwark against forgetting and repeating the cataclysms of the past.
More Information Here