Accepting Applications for Toraji Prize in Korean American Cultural Studies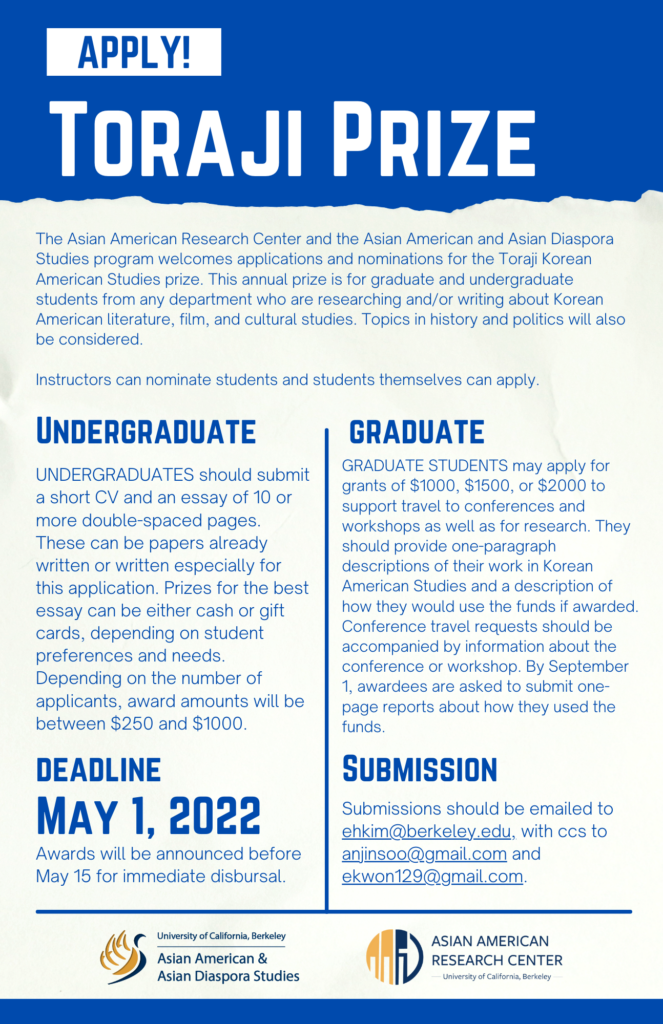 The Asian American Research Center and the Asian American and Asian Diaspora Studies program welcomes applications and nominations for the Toraji Korean American Studies prize. This annual prize is for graduate and undergraduate students from any department who are researching and/or writing about Korean American literature, film, and cultural studies. Topics in history and politics will also be considered.
Instructors can nominate students and students themselves can apply.
UNDERGRADUATES should submit a short CV and an essay of 10 or more double-spaced pages. These can be papers already written or written especially for this application. Prizes for the best essay can be either cash or gift cards, depending on student preferences and needs. Depending on the number of applicants, award amounts will be between $250 and $1000.
GRADUATE STUDENTS may apply for grants of $1000, $1500, or $2000 to support travel to conferences and workshops as well as for research. They should provide one-paragraph descriptions of their work in Korean American Studies and a description of how they would use the funds if awarded. Conference travel requests should be accompanied by information about the conference or workshop. By September 1, awardees are asked to submit one-page reports about how they used the funds.
DEADLINE FOR NOMINATIONS AND APPLICATIONS: May 1.
AWARDS will be announced before May 15 for immediate disbursal.
Submissions should be emailed to ehkim@berkeley.edu, with ccs to anjinsoo@gmail.com and ekwon129@gmail.com.