March 28 | Colloquium on Transnational Asian American Studies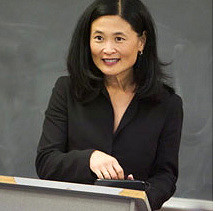 On Monday, March 28, Asian American and Asian Diaspora Studies is hosting a colloquium titled Transnational Asian American Studies from 12 to 2 p.m. in the Barbara Christian Conference Room, 554 Barrows Hall. Panelists include Professors Lisa Lowe (UC San Diego Literature), Yen Le Espiritu (UC San Diego Ethnic Studies), Jodi S. Kim (UC Riverside Ethnic Studies), and Neferti Tadiar (Barnard College Women's Studies).
Transnational Asian American Studies Colloquium panelists are asked to consider two questions that could help us as we think about the future of our Asian American and Asian Diaspora Studies program at this juncture:
Building on rather than moving away from the civil rights legacies of Asian American Studies, with its concern about social justice and racial equality in local communities, how might our work be strengthened and made more useful by thinking of Asian American Studies in terms of transnationality and diaspora dialectics or circuitry?
The recent report of the External Review Committee on Ethnic Studies and our current Chair, as well as the current Social Science Dean, have been calling  for a[n Ethnic Studies]  'departmental vision' that is not 'impeded' by an understanding of ethno-racial groups (here, the Committee seems to be referring to Chicana/o Latina/o and Native American 'groups') as 'fixed and bounded.' In what ways might new directions for transnational Asian American and Asian Diaspora studies contribute to a 'departmental vision' that makes productive sense for all three Ethnic Studies programs?
Of course, the university administration's interest in what might seem to it to be a 'more unified departmental vision' is in part motivated by concerns about funding, to which it perpetually responds with the never new idea of consolidation/homogenization. At the same time, though, we would like to develop each program according to its specific particularities, and we also want the programs to work effectively together. This is our perennial challenge.
Refreshments will be served.
---
Participants
Neferti Tadiar, Professor of Women's Studies, Barnard College
Professor Tadiar's books include Things Fall Away: Philippine Literatures, Historical Experience and Tangential Makings of Globality (2009) and Fantasy-Production: Sexual Economies and Other Philippine Consequences for the New World Order (2004), which won the 2005 Philippine National Book Award. She is currently working on a book project titled Discourse on Empire: Living Under the Rule of Permanent War, and she is also beginning a new research project entitled Schooling National Subjects: Experience and Education in US Colonial Philippines. She notes that while her research focuses on contemporary Philippine cultures and their relation to political and economic change, she addresses broad questions about gender, race, and sexuality in discourses and material practices of nationalism, transnationalism, and globalization. Her academic interests include transnational and third world feminisms and critical theories of race and subjectivity.
Lisa Lowe, Professor of Comparative Literature and Affiliated Faculty in Ethnic Studies and Critical Gender Studies, UCSD
Professor Lowe's current research interest is Asian migration within European and American modernities. She is the author of Immigrant Acts: On Asian American Cultural Politics (1996) and Critical Terrains: French and British Orientalisms (1991) and co-editor of New Formations, New Questions: Asian American Studies (1996) and The Politics of Culture In the Shadow of Capital (1997). Her recent publications include "Autobiography Out of Empire," in A Future Beyond Empire. Small Axe: A Caribbean Journal of Criticism (2009), "Metaphors of Sovereignty," in America and the Misshaping of a New World Order (2010), and "Reckoning Nation and Empire," in Blackwell Companion to American Studies (2010). She serves on the advisory boards of both positions: east asian culture(s) critique and signs.
Yen Le Espiritu, Professor and Chair of Ethnic Studies, UCSD
Originally from Vietnam, Yen Le Espiritu is currently Professor and Chair of the Department of Ethnic Studies at the University of California, San Diego.  She has written four books: Asian American Panethnicity: Bridging Institutions and Identities; Filipino American Lives; Asian American Women and Men: Labor, Laws, and Love; and Home Bound: Filipino American Lives Across Cultures, Communities, and Countries, three of which have received national book awards.  Her current research projects explore the
socio-emotional lives of children of immigrants from the Philippines and Vietnam, refugee communities in San Diego, public and private "rememoration" of the Vietnam War, and Vietnamese transnational lives.
Jodi S. Kim, Associate Professor of Ethnic Studies, UC Riverside
Jodi Kim is Associate Professor of Ethnic Studies at UC Riverside.  She is the author of Ends of Empire: Asian American Critique and the Cold War (University of Minnesota Press, 2010).  Her essays on Asian American cultural productions have appeared in journals such as American Quarterly, Journal of Asian American Studies, and MELUS.