ADVANCING OUR LEGACY: 2017 ANNUAL FUNDRAISING RECEPTION
ADVANCING OUR LEGACY: 2017 ANNUAL FUNDRAISING RECEPTION
Friday, October 27, 2017 from 6:00 PM to 8:30 PM
Alumni House University of California, Berkeley Berkeley, CA 94720
Please join the Asian American and Asian Diaspora Studies Program for its 4th Annual Fundraising Reception to advance the legacy of AAADS.
Keynote Speaker
Jeff Adachi
Public Defender, City & County of San Francisco
AAADS Legacy Award for Community Leadership
Meng So
Director, UC Berkeley Undocumented Student Program
Please RSVP by October 23, 2017. Onsite registration thereafter.
https://www.eventbrite.com/e/advancing-our-legacy-2017-annual-fundraising-reception-tickets-37678566607
Contributions made at the Promoter level and above, received by
October 16, 2017, will be recognized in the printed program.
Your contributions can help us create two new endowments.
Please help us reach our goal.
The Helen Mineta Fund for Asian American Student Development
(Fund #FN7406000)*
The Chinese American Studies (CAS) Fund (Fund #FN7417000)*
Or you may choose to contribute to our existing endowments:
The Elaine H. Kim Korean American Studies Endowment
(Fund #FW8355000)
The endowment for Asian American and Asian Diaspora Studies
(Fund #W8199000)
*The Mineta and CAS funds must reach the minimum of $50,000 each to become permanent endowments. If minimum endowment levels are not reached by their deadlines, these contributions will be expended for the purposes intended by each fund.
Please make checks payable to UC Berkeley Foundation, indicating the fund number in the "Memo" line. Unless specified otherwise, your contributions will support the endowment for Asian American and Asian Diaspora Studies.
Please mail checks to:
AAADS Program, Ethnic Studies Department
506 Barrows Hall
University of California
Berkeley, CA 94720-2570
For additional information, please contact asianamerican50th@gmail.com
~~~~~~~~~~~~~~~~~~~~~~~~
AAADS 50th Anniversary Campaign
Two years from now, in Fall 2019, Asian American and Asian Diaspora Studies (AAADS), will celebrate the 50th anniversary of its founding at the University of California, Berkeley. It was in 1969 that our program, along with African American, Chicano/Latino, and Native American Studies, was established within a new Department of Ethnic Studies. As a result of student and community activism, hitherto neglected experiences and contributions of racial minorities began to be recognized and studied in American institutions of higher learning.
Since that time, AAADS has produced and disseminated knowledge about the histories, cultures, and communities of diverse groups such as Chinese, Filipino, Japanese, Korean, South Asian, Southeast Asian, and more recently, Muslim Americans. Degree programs have prepared numerous students to be civic and political leaders, scholars and teachers, artists and cultural critics, and socially aware citizens across the nation.
We are proud of what AAADS has accomplished, but much remains to be done. To ensure our program's continued growth, relevance, and vibrancy for generations to come, we are launching a fundraising campaign. Please join us in this worthy cause.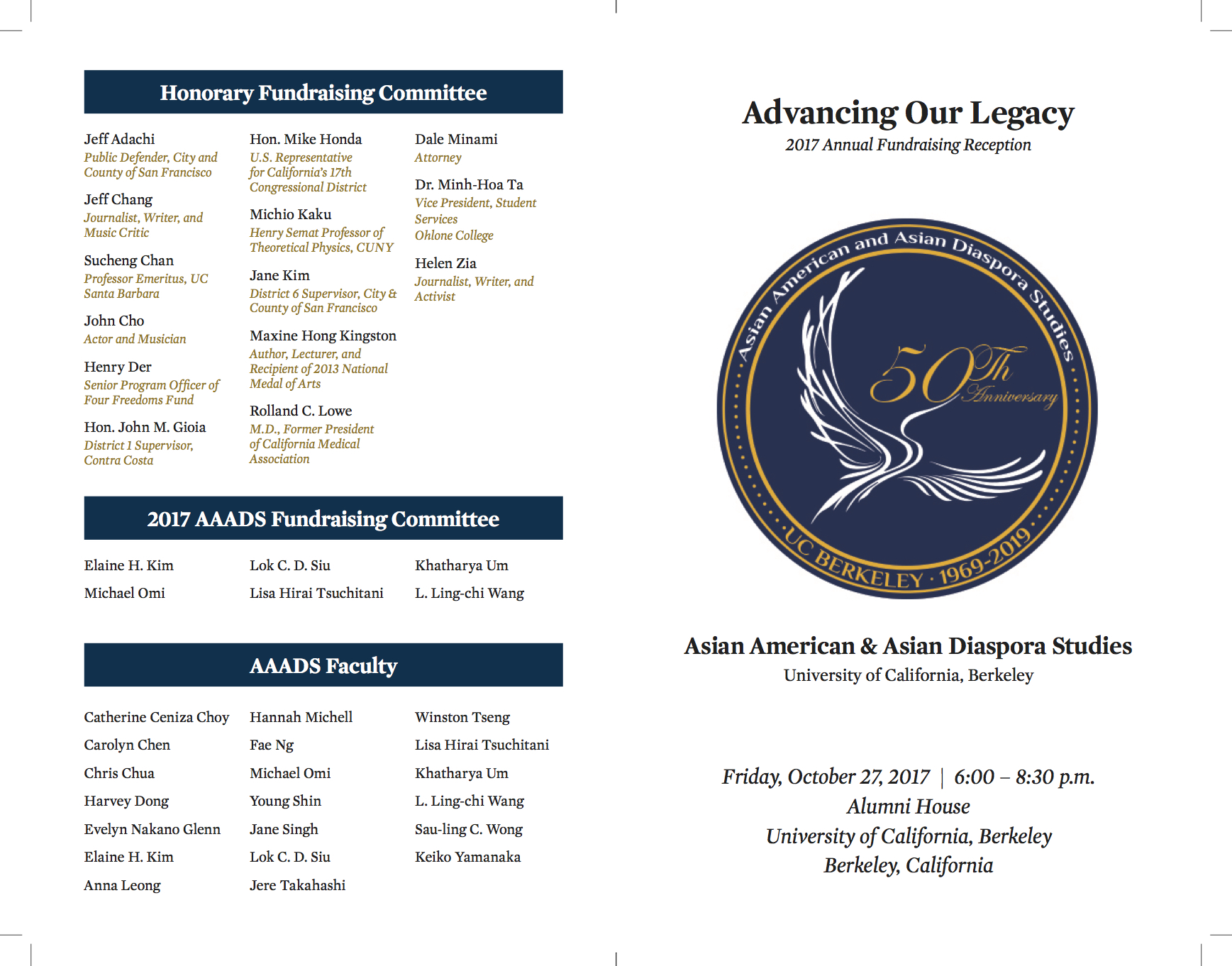 For directions to the 2017 Annual Fundraising Reception, please refer to the map and directions below: