Krao Farini: Wonder and Tokenism as Colonial Propaganda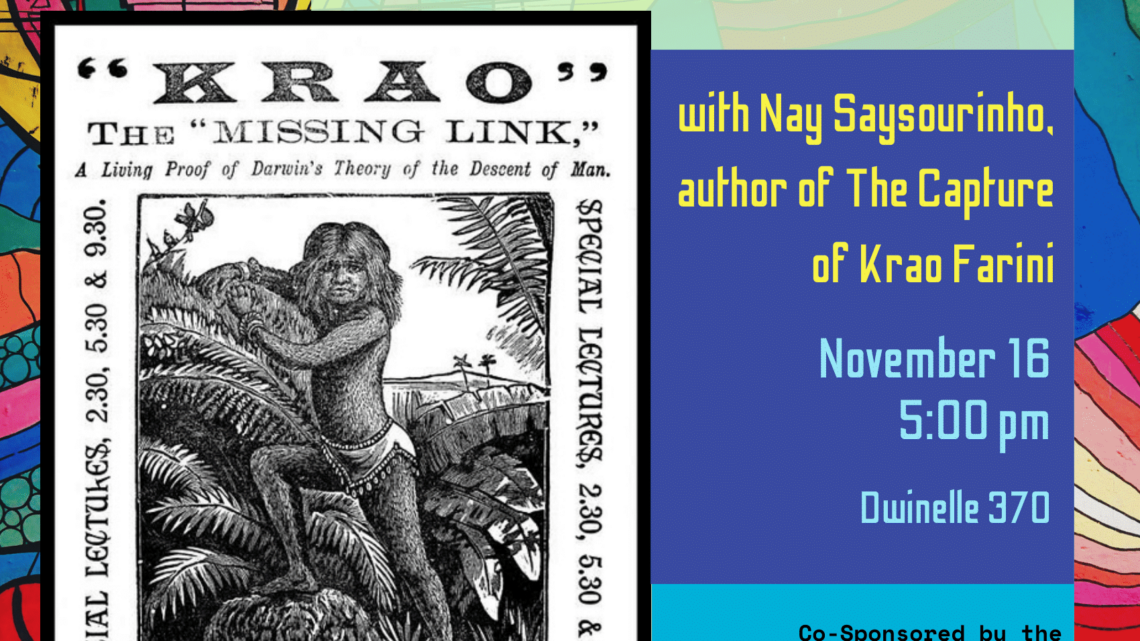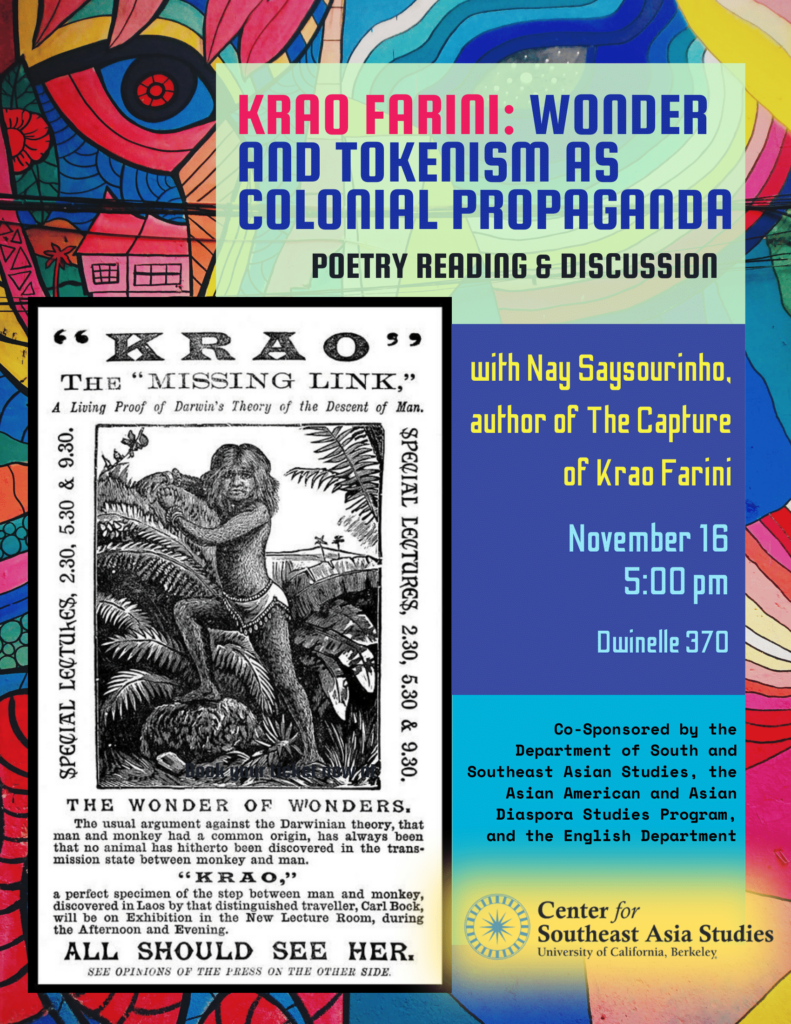 Join us for a poetry reading event this Thursday, November 16, at 5:00 PM in Dwinelle 370! This event features the incredible work of Nay Saysourinho. 
Sideshow performers were often displayed for the shock value of their different appearances. Yet, some of them were able to assert more control over their lives, such as Krao Farini. Billed as a "missing link" between apes and humans, she was witty, well-read, and spoke several languages, which granted her a quality of life inaccessible to many of her peers. In my poetry chapbook The Capture of Krao Farini, I explore the consequences of being both the Other and the Exceptional, and how this fraught position continues to bolster colonialism, elitism and capitalism.
– 
About the speaker: Nay Saysourinho is a writer, visual artist and recipient of a 2023 Baldwin for the Arts Fellowship. She was previously a Rona Jaffe Fellow at MacDowell and a Short Fiction Scholar at Tin House Workshop. In 2019, she was chosen as the inaugural Adina Talve-Goodman Fellow by One Story and in the same year as a Marion Deeds Scholar by the Mendocino Coast Writers Conference. She holds a Berkeley Associate Fellowship from Yale and has received support from Kundiman, the Writers Grotto and the Tucson Festival of Books Literary Awards.
Blending the traditions of her Lao heritage, the Québec folklore of her childhood, and the work of Marshall McLuhan, her practice examines the transmission of alternate historical narratives. Her writing has been published in Kenyon Review, Ploughshares Blog, Khôra, The Funambulist, and more. Her chapbook The Capture of Krao Farini — part poetry, part Turing test — was released in September 2023 by Ugly Duckling Presse. She is currently at work on her first novel. Originally from Montréal, Nay Saysourinho now resides in New England.
– 
Sponsor(s): Center for Southeast Asia Studies, English Department, Asian American and Asian Diaspora Studies Program, Department of South and Southeast Asian Studies
If you require an accommodation for effective communication (ASL interpreting/CART captioning, alternative media formats, etc.) or information about campus mobility access features in order to fully participate in this event, please contact Alexandra Dalferro at adalferro@berkeley.edu with as much advance notice as possible and at least 7-10 days before the event.
Contact Info: 
cseas@berkeley.edu
Access Coordinator: 
Alexandra Dalferro
cseas@berkeley.edu, 510-642-3609