Before They Take Us Away Screening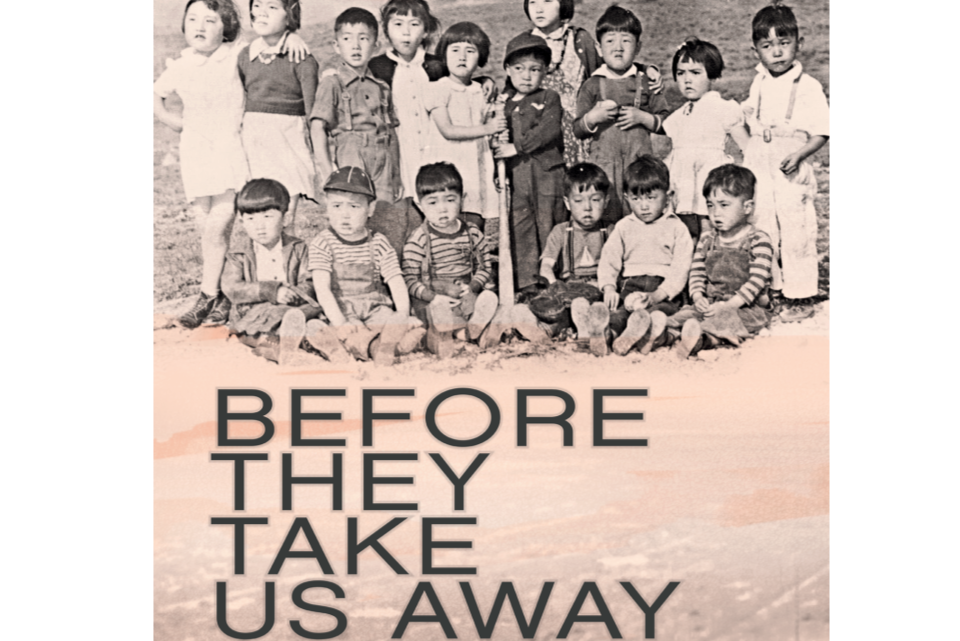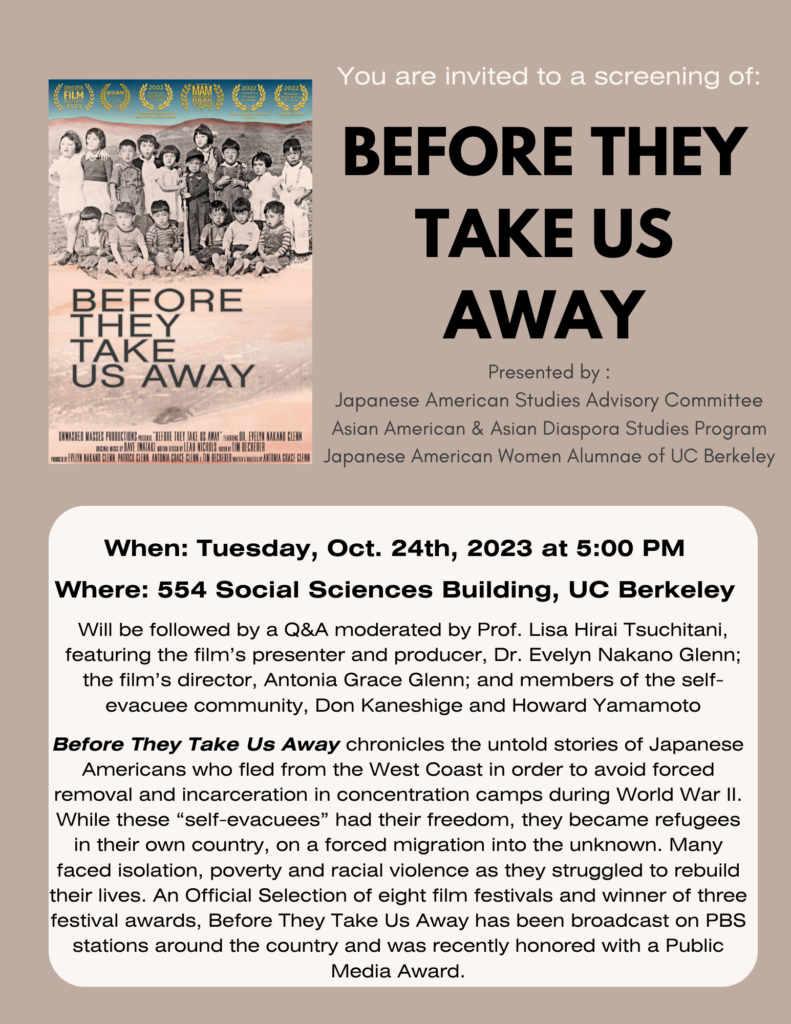 Join us for a screening of the film, Before They Take Us Away on October 24th, 5:00 PM, at 554 Social Sciences Building. The film screening will be followed by a Q&A moderated by Dr. Lisa Hirai Tsuchitani and featuring the film's presenter and producer, Dr. Evelyn Nakano Glenn, the film's director, Antonia Grace Glenn, and members of the self-evacuee community, Don Kaneshige and Howard Yamamoto.
Before They Take Us Away chronicles the untold stories of Japanese Americans who fled from the West Coast in the wake of Executive Order 9066 in order to avoid forced removal and incarceration in concentration camps during World War II. While these "self-evacuees" had their freedom, they became refugees in their own country, on a forced migration into the unknown. Many faced isolation, poverty, and racial violence as they struggled to rebuild their lives. An Official Selection of eight film festivals and winner of three festival awards, Before They Take Us Away has been broadcast on PBS stations around the country and was recently honored with a Public Media Award.
Panelist Information:
ANTONIA GRACE GLENN (Director, Writer and Producer) is an actor, writer, producer, and filmmaker. Her first two documentary films, The Ito Sisters: An American Story and Before They Take Us Away, have been broadcast on more than 200 PBS stations around the country; named Official Selections of 18 film festivals and recipients of nine festival awards; and screened at more than 30 universities, museums and other sites around the country, including at the Smithsonian Institution in Washington, DC. Before They Take Us Away was recently honored with the national Public Media Award for Independent Production. Glenn has worked as a theatre artist and/or arts administrator for such organizations as Idyllwild Arts Foundation, KCET Public Television in Los Angeles, Cornerstone Theater Company, San Diego Repertory Theatre and Troy Rep Theatre Company. She holds a BA from Wellesley College; an MFA in Acting from USC; and a PhD in Theatre & Drama from a joint program at the University of California, San Diego, and Irvine.
EVELYN NAKANO GLENN (Producer) is Professor Emerita of the Department of Ethnic Studies and Founding Director of the Center for Race and Gender at the University of California, Berkeley. Glenn's teaching and research have centered on race, gender, and class dynamics, particularly as they have played out in the family, labor force, and citizenship. Her articles have appeared in such journals as Social Problems, Signs, Feminist Studies, Social Science History, Stanford Law Review, Contemporary Sociology, and Gender and Society. Her books include Forced to Care: Coercion and Caregiving in America (Harvard University Press); Unequal Freedom: How Race and Gender Shaped American Citizenship and Labor (Harvard University Press); Issei, Nisei, War Bride: Three Generations of Japanese American Women in Domestic Service (Temple University Press); Shades of Difference: Why Skin Color Matters (Stanford University Press); and Mothering: Ideology, Experience, and Agency (Routledge). Honors and awards include the Asian American Local Heroes Award from KQED and the Nikkei of the Biennium Award for Contributions to Education from the Japanese American Citizens League. Glenn holds a BA from UC Berkeley and a PhD from Harvard University.
DON KANESHIGE (Self-Evacuee) was born in Seattle, WA in 1935 to an Issei father and Nisei mother. He was one of five children. His family worked in farming. At the start of World War II, his grandfather, who was a leader of a local Japanese Association, was arrested and taken away. The family did not know where he was for several years. To avoid incarceration, Don's extended family moved from Seattle to Spokane, which was outside the Military Zone, from which all Japanese Americans were excluded. Don and his family lived in Spokane for a year, then moved to Hayford, 15 miles west of Spokane. The house had no electricity for a month. They lived there for one year on a vegetable farm, then moved to Garden Springs, just outside Spokane city limits. The family moved to Oakland, CA in 1948. Don graduated from Oakland Tech High School, then attended San Francisco City College and Oakland City College. He had a career as a building construction estimator.
HOWARD YAMAMOTO (Self-Evacuee) was born in 1937 in San Francisco. At the start of World War II, his family was part of a group of 120 Japanese Americans who avoided incarceration by "voluntarily" relocating from the Bay Area to Keetley, UT. The group formed the Keetley Colony, which converted land full of rocks and sagebrush into productive farmlands. His family then relocated to Salt Lake City, where his father opened a Japanese restaurant. They later returned to California. Howard graduated from Berkeley High School and San Francisco State University and served in the US Army. He taught for 20 years in the East Bay, earned a master's degree and became a counselor. In his retirement, he has traveled the world.
LISA HIRAI TSUCHITANI (Moderator) is a faculty member in the Asian American & Asian Diaspora Studies Program of the Department of Ethnic Studies at UC Berkeley. A recipient of the Chancellor's Public Service Award for Community Engaged Teaching and the Spirit of 1868 Award from the UC Berkeley Foundation, Tsuchitani centers her research, teaching, and advocacy efforts on critical pedagogy, and educational equity issues. She serves as founder and chair of the Japanese American Studies Advisory Committee, faculty co-chair of the Asian American & Pacific Islander Standing Committee, and inaugural Director of Engagement for Asian American & Pacific Islander Thriving Strategy for the campus.
For more information on the film, please visit: https://www.beforetheytakeusaway.com/.