A Thank You to Everyone: AAADS Homecoming 2018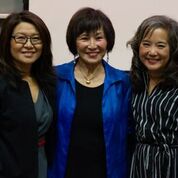 Brief Words With AAADS Coordinator, Professor Lok Siu:

Dear Friends,
Thank you for attending our homecoming event, The Future of Asian Americans in a Multiracial United States.  With over 300 people in attendance, the panel explored the legacies of the Third World Liberation Front and Asian American Studies, as well as their continued relevance to our current unprecedented political and social environment.
We greatly appreciate your joining us in celebrating the accomplishments of our alumni panelists—Don Tamaki ('76), Thi Bui ('98), Phil Ting ('92) and Nhi Tran ('10)—and  commemorating the 50th anniversary of the Asian American Studies Program (now AAADS) at UC Berkeley.
This event is part of a yearlong series of programs that aim to assess the changes in the Asian American and Pacific Islander communities since our program's founding; to address current and emerging challenges; and to imagine new opportunities for Asian Americans and Pacific Islanders to partake in our increasingly complex and multiracial society.  We look forward to engaging you in these future conversations.
For links to the video recording and photo gallery of the event, please see below:
http://bit.ly/AAADSHomecomingPanel
Warm Regards,
Lok Siu