Last Call for Applications: CAUSE Leadership Academy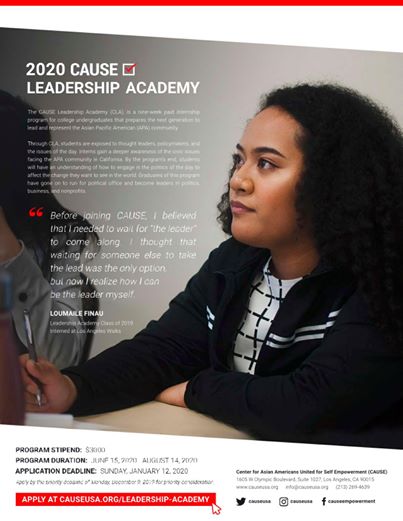 Attention all undergraduate and graduate students! We are a day away from the 2020 CAUSE Leadership Academy (CLA) application deadline!
CLA program is a program where students can gain a deeper awareness of the issues facing the Asian Pacific American (APA) community. During this nine-week paid internship, students are placed in one of three tracks of placements in the public, private, and nonprofit sectors to work with the community and civic leaders of Southern California.
The final application deadline is Sunday, January 12th. Applications can be found at www.causeusa.org/leadership-academy/apply. Feel free to contact us Justine Ventura Mejia at justine@causeusa.org for more information.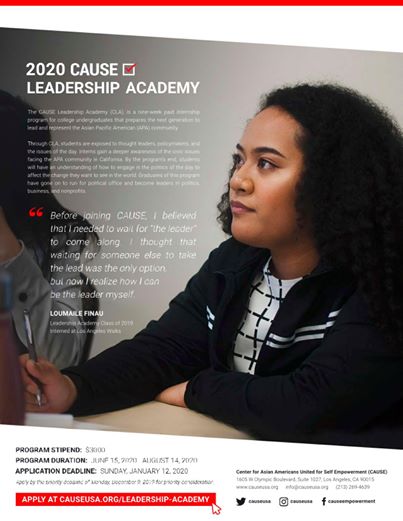 About the Program (from CAUSE's website)
The CAUSE Leadership Academy (CLA), is a eight-week paid internship program for college undergraduates that prepares the next generation to lead and represent the Asian Pacific American (APA) community.
Founded in 1991 as the California Asian American Student Internship Coalition (CASIC), CLA's goal is to develop a pipeline of civic leadership for the APA community. As the fastest growing community in the United States, it is key that representation and leadership in the public, private, and non-profit sectors keep pace with our country's changing demographics.
Through CLA, students are exposed to thought leaders, policymakers, and the issues of the day. Interns gain a deeper awareness of the civic issues facing the APA community in California. By the program's end, students will have an understanding of how to engage in the politics of the day to affect the change they want to see in the world. Graduates of this program have gone on to run for political office and become leaders in politics, business, and nonprofits.
Duration: June 15th, 2020 – August 14th, 2020 (9 weeks)
Time Commitment: Must be able to commit full time for 40 hours per week. Additional hours to work on a group project will also be required.
Stipend: A stipend of $3000 will be provided upon satisfactory completion of the program and will serve as reimbursement for expenses accrued throughout the program's duration. Limited additional support is made available on a case-by-case basis.
Requirements: Please keep in mind, the majority of activities will take place in the Greater Los Angeles area. Interns are required to commute to and from their office placement, weekly civic leadership workshops, various mandatory meetings/events, and to group project meetings on an as-needed basis. Access to reliable transportation and being mindful of traffic conditions in Los Angeles is a must.