Don't miss – FORGETTING VIETNAM, a film by Trinh T. Minh-ha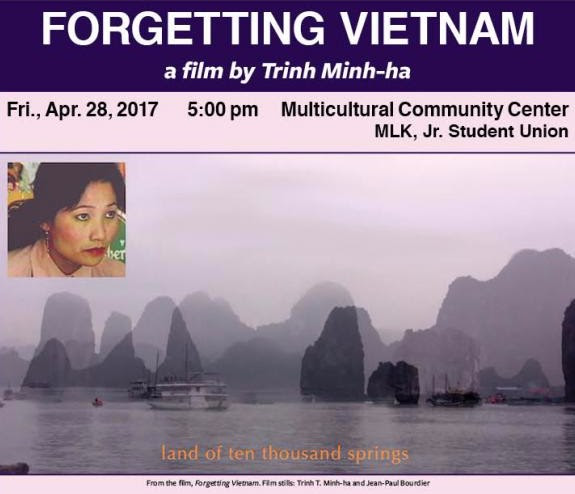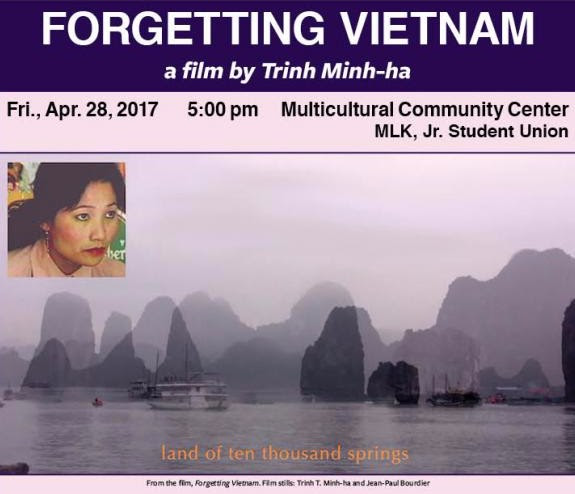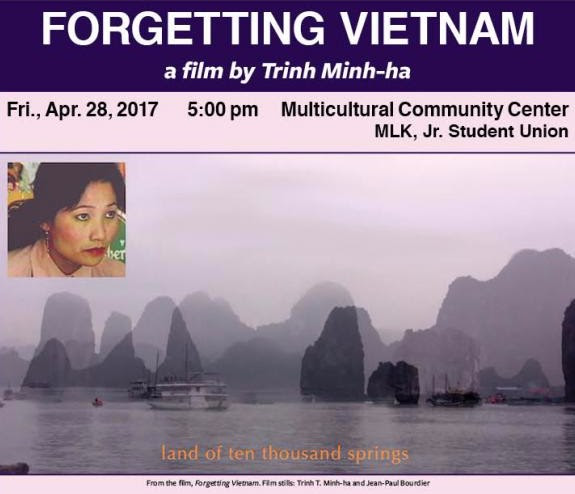 Center for Race & Gender Special Film Presentation
FORGETTING VIETNAM
a film by Prof. Trinh T. Minh-ha
Gender & Women's Studies and Rhetoric
Discussion Moderator: Prof. Khatharya Um
Ethnic Studies
Friday, April 28, 2017
5:00 pm
Multicultural Community Center
MLK, Jr. Student Union Building, UC Berkeley
Location is wheelchair accessible. Light refreshments served.
Event organized by the CRG Arts & Humanities Initiative.
Touching on a trauma of international scale, FORGETTING VIETNAM is made in commemoration of the 40th anniversary of the end of the war and of its survivors. Vietnam in ancient times was named đất nứớc vạn xuân—the land of ten thousand springs. Using  images of contemporary life that unfold as a dialogue between land and water, influential feminist theorist and filmmaker Trinh T. Minh-ha's lyrical film essay draws inspiration from ancient legend and from water as a force evoked in every aspect of Vietnamese culture, creating a third space of historical and cultural re-memory—what local inhabitants, immigrants and veterans remember of yesterday's stories to comment on today's events.
~~~
Bio: Born in Vietnam, Trinh T. Minh-ha is a filmmaker, writer and music composer, and Professor of Gender & Women's Studies at UC Berkeley. Trinh Minh-ha has traveled and lectured extensively – in the States, as well as in Europe, Asia, Australia and New Zealand – on film, art, feminism, and cultural politics.  She is also the recipient of many distiguished awards and grants.  Among her many influential films, publications, and multi-media installations, Trinh T. Minh-ha is the author of Lovecidal. Walking with The Disappeared (2016), D-Passage. The Digital Way (2013), Elsewhere Within Here (Immigration, Refugeeism and The Boundary Event, 2010); The Digital Film Event (2005), Cinema Interval (1999), Framer Framed (on film, 1992), When the Moon Waxes Red, (on representation, gender and cultural politics, 1991), Woman, Native, Other (on post-coloniality and feminism, 1989), and En minuscules (poems, 1987).  Learn more about Trinh T. Minh-ha and her powerful body of work.
Khatharya Um is Associate Professor of Asian American and Asian Diaspora Studies, and Chair of Peace and Conflict Studies at the University of California Berkeley. She received her Ph.D in Political Science from the University of California, Berkeley and was a Berkeley Chancellor's Distinguished Postdoctoral Fellow. Her research and teaching interests focus simultaneously on Southeast Asia and Southeast Asian American communities and include politics and societies of Southeast Asia, refugee, diaspora and transnational studies, postcolonial studies, and genocide studies. She has written widely on the Cambodian genocide and on conflict and post conflict issues including the experiences of women survivors of genocide. Her current research interests center on the politics of memory and commemoration, with a special focus on second generation "postmemory."
Event co-sponsored by Gender & Women's Studies, Ethnic Studies, Asian American and Asia Diaspora Studies, the Ethnic Studies Library, and the Multicultural Community Center